KOHINOOR AND PUNE
The city of Pune has many synonyms - Cultural Capital of Maharashtra, Oxford of the East, Pensioner's Paradise and so on...
However, to us, Pune has always meant much more than all this.
Kohinoor and Pune have a profound connection lasting over 40 years. During these years, we've been humbled by the love and trust of "Punekars" and also been blessed by Mother Earth. Every piece of land that we chose for construction has been a boon for us and the entire Kohinoor family of happy residents in those projects.
Today, Kohinoor Group stands tall because of the faith that people have placed in us. We are thankful to the citizens of Pune for giving us an opportunity to touch their lives, and help make them a little happier every day.
The cusp of the Millennium – a turning point for Pune and Kohinoor
Around the cusp of the millennium, we realised that Pune's proximity to Mumbai and its fast-evolving IT industry would create a huge demand for homes as well as commercial real estate.
This presented us with an opportunity to develop lifestyle projects with good connectivity, conveniences and best-in-class comforts to cater to a diverse category of home buyers. Pune's importance as a major global business center grew in coming years and we took this opportunity to give organisations the physical platform needed for success.
Since then Kohinoor has consistently created office spaces, shops and showrooms for business owners at strategic locations across Pune.
Over the years we have created a strong community of over 10K happy families. And in the next 5 years, we plan to create 20,000 new homes and an ocean of smiles.
AWARDS AND RECOGNITION
During their 40-year journey Kohinoor Group has created 45 projects and delivered over 9 million sq. ft. What's more, the group has more than 3 million sq.ft. of spaces currently under development. Considering their Japanese inspired roots, attention to detail and meticulous planning, it's no surprise that their projects have won several awards. Here are a few notable ones:
KOHINOOR CULTURE
As a company Kohinoor believes in bringing genuine passion to the job. Vineet Goyal (Jt. Managing Director at Kohinoor Group) believes that every achievement should be celebrated, irrespective of how big or small it is. He believes that the positivity of celebrations brings out the best in people, and that Kohinoor's culture should be friendly, warm and comfortable.
Today Kohinoor has a headcount of 200+ professionals and has a bigger dream – the plan is to make Kohinoor's culture such that people love to come to work, and eventually to grow to build a team of thousands of professionals in coming years.
The channel partners meet at Kohinoor Grand Tamanna
The channel partners meet at Kohinoor Grand Tamanna
Team Kohinoor celebrating Ganeshotsav
Mr. Vineet Goyal (Jt.MD, Kohinoor Group) addresses the Kohinoor Commercial Team upon achieving Q1 2019 targets
A celebration to mark the sale of 700 homes at Abhimaan Township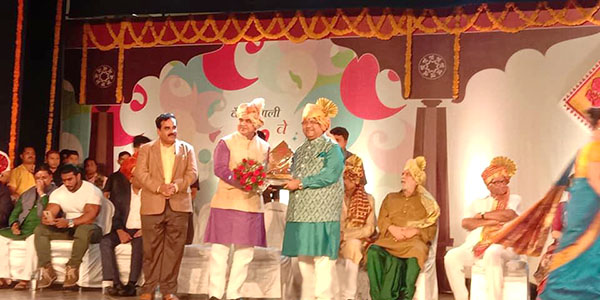 Mr. Krishnakumar Goyal (CMD, Kohinoor Group) being felicitated at Pune Festival
Kohinoor Group is proud to be associated with Pune Festival
CSR
Kohinoor Group has been involved in CSR activities even before the term was coined. Ever since the company's inception, Mr Krishnakumar Goyal has ensured a good percentage of their total income is utilised towards a social cause.
Be it cultural, social, educational or even sports related activities, Kohinoor has always taken pride in associating with the same. In fact the entire team at Kohinoor feels humbled that the company gets a chance to touch people's lives, make a positive difference and give back to society at large.