OUR HISTORY
Kohinoor Group has proudly stood tall as a leader in Pune's real estate development sector for over 39 years. When the group commenced operations in 1983 under the able leadership of its Chairman & Managing Director, Mr Krishnakumar Goyal, they started a cement trading business.
Construction and development began only in 1989 under the name of Kohinoor Constructions. Today the group has developed and delivered over 8 million sq. ft across Pune and has over 6.5 million sq. ft of spaces currently under development. It also has diversified interests in other verticals like Manufacturing, Logistics and Services.
In the last decade every project that Kohinoor Group has undertaken has been planned entirely before starting any construction work – an inspiration that Mr Vineet Goyal and Mr Rajesh Goyal, Jt. Managing Directors, Kohinoor Group learnt from Japanese construction practices. Be it residential properties or commercial projects, Kohinoor always thinks about the needs and wants of their customer base before taking any decisions.
KOHINOOR PHILOSOPHY
At Kohinoor, everything revolves around customer happiness. Which is why, everything that it builds comes with the promise of Sada Sukhi Raho: the timeless blessing in India.
This promise means that Kohinoor is committed to its customers at every step; right from assistance in the sales procedure to offering free maintenance on all of its projects*.
Owing to its matchless values of trust and transparency, Kohinoor has grown to become a reputed leader in the industry. It is also one of the most trusted names, with a community of over 6.5K happy families. It has built a thriving relationship with its customers based on the solid foundation of trust, integrity and transparency.
Everything has been possible owing to its values called - CARE
C
CANDIDNESS
Truthful, Transparent
and straightforward attitude.
A
ACHIEVEMENT
Performance that is
on time
R
RELATIONSHIP
Connections that last a lifetime
E
EXCELLENCE
1% Improvement every day
39 YEARS OF
MATCHLESS LEGACY
8 MILLION
SQUARE FEET DELIVERED

39 PROJECTS
ACROSS PUNE
8K HAPPY FAMILIES
VISION
To be the most trusted and dependable provider of real estate solutions.
MISSION
We strive to be amongst the top 10 listed real estate solutions providers in the country. We will achieve it by:
Gaining the trust of our stakeholders by being transparent in all our actions and deeds.

Creating long-term value by leveraging technology.

Providing a joyful and productive work environment to our employees.
VALUES
Agility: We adapt to change and are innovative trendsetters.
Celebrate: We enjoy our work and revel in each other's success.
Commitment: We walk the talk.
Customer first: Customer delight is always our primary goal.
Excel and improve: We excel at everything we do and keep improving.
Humility: We are humble and self assured.
Relationship: We keep long-term relationships in mind and work for everyone to be सदा सुखी.
Kohinoor's upcoming 5-year plan
Kohinoor has seen a year-on-year growth of 25-30%, thanks to it's customer base, and the plan is to continue that success rate. Kohinoor believes in their core positioning of creating spaces for mid-segment. The company believes in sticking by their core competency. There is a huge demand-supply gap in this segment of homes or properties in Pune, and Kohinoor wants to bridge that gap.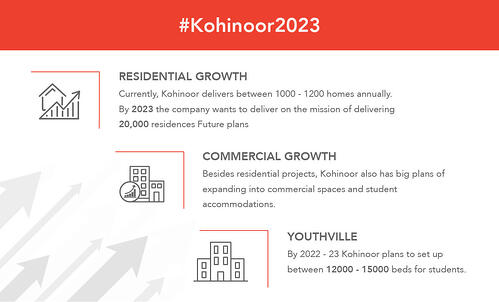 OTHER VENTURE
Youthville Hostels
Youthville hostels have been specially designed to make student living, not only easy and comfortable, but also exciting, vibrant and enjoyable. The architecture is modern, youthful and aesthetically designed. The interiors are bright, colourful, spacious and airy, emphasizing the cheerful ambiance of Youthville.
Visit the website here - http://www.youthvillehostel.com